The candles are lit and incense is wafting through the air.
The sisters are gathering. A soft hum of excited greetings can be heard.
Women sink into cushions around the circle. Long exhales are audible, tension is drifting away.
The inner circle is forming.
And you're invited too.
This September the Giggling Goddess Inner Circle is opening.
This is your invitation to join us…

Looking to add some magic and sparkle to life? Then join our inner circle of Giggling Goddesses!
We are women come together to create and celebrate. To nurture ourselves and our dreams. To connect to the power that lies within. To grow, to let go, to transform, to become.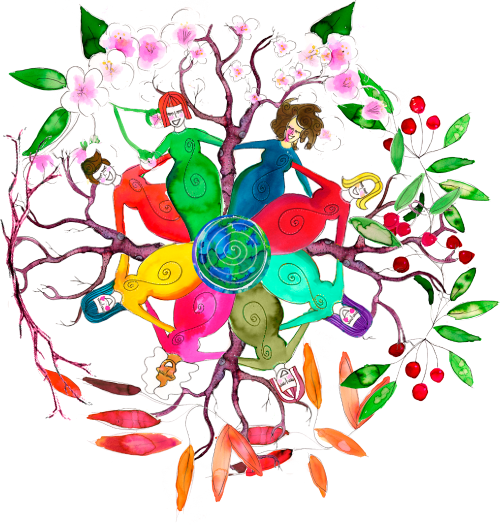 We are lighthearted and joyful. Learning to let happiness shine through us. With vibrant spirits We join together to be our true selves. Passionate, powerful, playful.
We are one with Mother Earth. Nurtured, supported, empowered. And through the cycle of the seasons we too watch our seeds bloom and gather in our harvest. Then rest a while, dreaming, regenerating.
We see the magic in life and the sacred in everyday. We radiate love and laughter. We embrace our creative spirits. And our inner child runs free.
We are friends come together, to connect, share, support and enjoy.
Join us! Share the delight.
Let your own Giggling Goddess emerge. Ever radiant and joyful. Ready to step into the magic, lighting up your life.
You'll know the Inner Circle is for you if…
Is your heart singing in agreement?
Can you feel a YES bubbling inside you?
Then join together with like-minded goddesses by claiming your place in the inner circle. We can't wait to welcome you!
Enter a sacred and uplifting online sanctuary, away from life's stresses and strains, to create the life you desire.
Come together with other wonderful women from around the world in a warm, friendly circle of positivity, creativity, friendship and fun.
Feel the support, encouragement and belonging from a circle of like-minded sisters.
Our inner circle is gathering online this September.
We'd love you to join us….